I have a confession, I bleach my skin. Actually I use 2 amazing products that help me to reduce the appearance of blemishes and hyperpigmentation on my face. My skin is prone to blemishes therefore I am always purchasing products both high end and low end that will help get rid of those blemishes fast and leave my skin looking flawless. So my 2 obsessions are by Clinique and Ambi.
Obsession #1
Ambi Skincare Fade Cream $7
Going back to my childhood I have always known and used products by Ambi. I knew from my relatives in Chicago that this was their go to product for keeping their skin blemish free. Side note, my cousins had and still have the most beautiful dark chocolate skin complexion. Never have I ever seen them with any breakouts or blemishes which is why I trusted their advice. Now back to my point.
This Ambi Fade Cream is a off white tinted color. Smooth in consistency and tingles a little bit due to the hydroquinone (the bleaching agent) when put directly on top of cleansed but blemished skin. You can literally feel this stuff working a few seconds after you put it directly on top of your blemish. However, I only use this product overnight because when exposed to this Florida heat, I noticed that it created breakouts due to the ingredients and the heavy consistency. As the directions say, discontinue use after you see results otherwise you will totally fuck up your skin (which is what the directions do not say).
Obsession #2
Clinique Acne Solutions Clinical Clearing Gel $26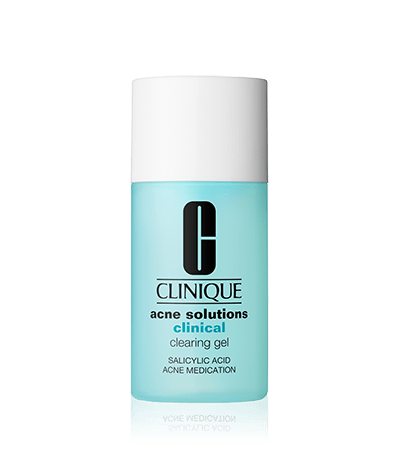 Clinique. I've been using Clinique since it became on my financial radar a few years ago. I knew that they had already owned good products but I wasn't interested in trying Clinique until I started working at a shopping mall. Once in that shopping mall, I'd walk down to Boston Store during my breaks and discover products that continued to make my skin appear and feel better than it was.
Now this clearing gel is great. Like the Ambi product it does tingle a bit when directly applied to blemishes but the difference is that you can wear this product during daylight hours without irritation. It is not heavy in consistency therefore I like to mix a pea size amount of this gel with a pea size amount of face moisturizer that way I can prevent and improve blemishes.
I love both of these products equally therefore I buy them both. "Quality over quantity. Fuck it I'll try both."
P.S. If you need help discovering new products read and try my other favs sold at Aubrey facial cleaner and skincare products by Peter Lamas.
What products do you use to remove Blemishes and Hyperpigmentation?
https://www.clinique.com/media/export/cms/products/402x464/clq_7WJ801_402x464.png