I thought I'd give NYX Cosmetics another go around with their eye products since to this day I am still completely obsessed and IN LOVE with their highlighter in
Ritualistic
along with their Butter Gloss and primers. I mean this brand has some pretty cute stuff that my skin likes but I don't think my eyes like their products specifically the READ POST
NYX Liquid Eyeliner. Oh No!
Then 2 weekends ago I spotted this bright, bold and beautiful makeup palette sitting in the clearance bin at Ulta so I purchased it. It's so pretty! Can you blame me?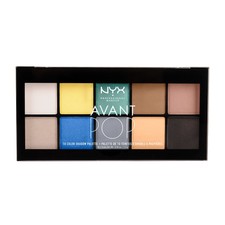 What can I possibly say that I have not said about ANOTHER eye product from this brand? I Will be positive then real. The colors in this palette were EVERYTHING that I was looking for with this upcoming Spring and Summer creeping upon us. The colors of white shimmer, soft sea green, mesmerizing yellow. Oh LAWD the yellow and that cafe latte color is what really got me. They look so amazing in that see through packaging that I couldn't resist. I literally envisioned myself in the Summer, because that's how I actually prep myself for the hot and beautiful season.
Daydream with me.
I'm slowing putting on all all white, long flowy dress while slightly glancing down at my semi-perfectly manicured hands and feet in strappy wedge sandals. Face on Glowy and Dewy Goddess status thanks to the overwhelming amount of highlighters that I owned and used by Anastasia Beverly Hills and a few other brands. My eyes are popping with colors of flowers, the ocean and the sun. I have the amazing yellow color in the inner corners of my eyes, the sea green color on the lids blending slightly into the cafe latte color in the crease blown out to the outer corners of the eyes to increase my cat like eye shaped. Trying to take it to another level of extraness I coat my lashes with about 5 coats of lengthening mascara.
Oh it was going to be an amazing day and then I tried it.
Not Obsessed NYX Avant Pop Shadow Palette $17 Clearance Rack $9
Not Enough Color
What can I say or how about I show you
CLICK HERE
to see my LIVE broadcast on Facebook. I did my usual of putting on a primer so the colors can show up to the highest intensity as possible. It didn't work. The yellow color barely made an appearance. The cafe late looking color did have a nice color payoff and the blue faded out so quickly that I was like hmmm... Topping the look off with a little bit of liquid eyeliner from E.L.F. I created a look that is more my style. My style is a wash bold colors that blend out too but are still visible to the eye and not the mind. That look wasn't really achieved in this palette. And then...
Another Allergic Reaction
2 minutes after finish my LIVE broadcast of my first time using this palette, then publishing it as a post on the Beauty Biche
Facebook
page my eyes are starting stingy. Bumps started to form and it was irritating and burning to the highest level. I took my
Wet n' Wild Makeup Removing Towelettes
which are dermatologist and ophthalmologist tested and carefully took off the eye makeup. I then cleansed my face with the Dove White Beauty Bar and immediately massaged
Loelle's
pure Jojoba Oil and Argan Oil on the irritated area. My eye was still burning and was so red and all I thought was, 'You should have known better lady'. I tweeted the company several times
CLICK TO VIEW THE TWEETS
but no response. That's not a good thing either. Lesson Learned AGAIN!
Conclusion
I am a fan of NYX face products but their eyeshadows and eyeliners are not for my eyes. That being said, if you have sensitive eyes, I wouldn't recommend any of their eye products.
Comment Below Your Experience With Their EYE Products
For more Pro Advice, Reviews and so much more
SUBSCRIBE
both here and on
Bloglovin
. Follow me on
Twitter
,
Facebook
,
Instagram
and
Pinterest
.
https://i.ebayimg.com/images/g/vZQAAOSwB4BaCz39/s-l225.jpg
https://www.nyxcosmetics.com/avant-pop-shadow-palette/NYX_193.html