This past January I received a gift kit of No7 products from my cousin who is absolutely lovely. I was in Florida visiting her sister so we could brainstorm ideas for
Scratch of Sweden Nail Care
and she came in with gifts. Omg. I think she knew how much I love beauty and skincare products in particular so I was like omg! I love her even more.
Obsessed
No7 Beautiful Skin Collection for Dry to Very Dry Skin
This collection came with sample size portions of an exfoliator, micellar water, day cream with SPF, night cream and a full size moisture mask. Out of all of the products I tried from this collection I only used the exfoliator twice and I still have yet to try the mask. The reason that I do not use the exfoliator much is because my skin is prone to sucking in those small exfoliating beads causing me to pick with my face and hope that I can get them out. That mission is never accomplished. Now the mask on the other hand is so pretty that I kind of do not want to mess it up. The way that it is perfectly swirled in the container is memorizing but I know I should use it before Summer gets here. Heck it is still dry here in Wisconsin.
Obsessed
No7 Day Cream Moisturizer with SPF $15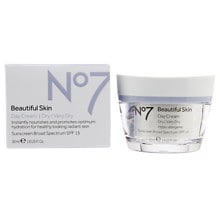 I am absolutely in love with this day cream. It is very creamy and not too heavy on the skin. As stated on the
Walgreen's
website, it contains glycerin which is a humectant that attracts moisture to the skin,
shea butter
which is rich in vitamins of A, E and F that has a fatty acids, and
ceramides
which plumps the skin and holds in moisture. All of these ingredients are nourishing and beneficial for the skin and aging skin as well. Remember the older we get the dryer our skin becomes."With SPF and Broad Spectrum UV Protection, caring for the future of your skin". Applying a pea size amount to the entire face and the neck while the skin is still partially wet.
Application Method
The best tip that I, a Professional Cosmetologist can give you is that you apply the moisturizer a few moments after you wash your face and neck. When you do this your pores are still open and susceptible to taking in the benefits of the cream thus allowing it to penetrate deeper into the skin resulting in overall effectiveness.
Obsessed
No7 Night Cream $15
I love this night cream just as much as I love the day cream. It contains the same ingredients as the day cream except it doesn't have the SPF and Broad Spectrum UV Protection. This being that you are using this at night when you are sleeping thus giving the skin the ability to moisturize and penetrate the skin even more while you sleep. As the website states, "Replenish and Soothe Dry Skin As You Sleep". The application method is the same as the day cream.
Overall this No7 Skincare is amazing and I have no complaints or suggestions at all besides Try It.
Comment Your Skincare Product Suggestions Below
Please
SUBSCRIBE
to my obsessions on
Bloglovin
,
Twitter
,
Pinterest
as well as
Instagram
and
Facebook
where I do LIVE broadcasts .
Image credits
https://pics.drugstore.com/prodimg/454795/900.jpg
https://pics.drugstore.com/prodimg/454794/220.jpg