1 or 2 of these are guaranteed to make you feel happy that you are confined to your home.
The time has come where we are back to our old ways of staying indoors and having a cocktail party of 1, 2, 3 or 4 because 1. It's way cheaper and 2. We can't go to the bar and have someone make it for us. That being said, totally tune into my Instagram --> @
thebeautiesincolor
THIS SATURDAY to join myself and my girlfriends make some of these cocktails and a few more.
Sangria
This is by far the easiest recipe that I remember when I was a waitress. It's fruity, contains as much alcohol content as the bottle of wine says and it's very light and refreshing.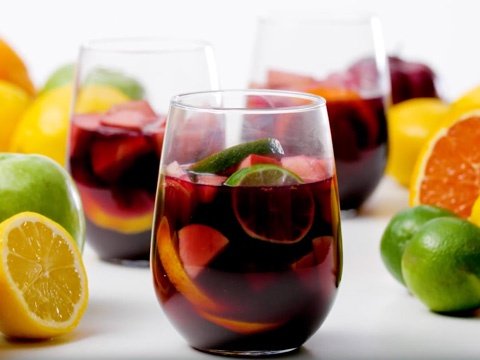 Credit: Total Wine
Ingredients
1 bottle of red or white wine.
If you want a red sangria, use the red liquor and vice versa.
1/4 cup brown sugar
1/2 liter of club soda or Italian soda
1 lemon and 1 lime. Wash, Cut lemon and lime into rounds
.
Ice
*Optional. A handful of grapes, strawberries, and oranges cut into thin slices*
Directions
WASH YOUR HANDS FIRST
Pour the wine into the pitcher and make sure not to spill a drop.
One by one squeeze the limes and lemons into the pitcher and drop the entire pieces into the pitcher as well. Set some aside for garnishment.
Add 1/4 cup sugar then stir.
Once the sugar has dissolved add ice and fill about 1/4 inch to the top of the pitcher. Stir and pour into glasses.
Garnish glasses with lemons and limes.
Optional. Add grapes and slices strawberries into the sangria mixture.
Kombucha Rose
Ingredients
Health ade kombucha
Pea flowers
Gin
Ice
Directions
To get the color effect for the cocktail, pour about 4-5 ounces of gin into a mason jar and add pea flowers of your choice into the jar. Let it sit for at least an hour to get the color. If you want the color to become darker then let it sit longer. Fill the bottom of the champagne flute with cubed ice. Pour 2 ounces of pea fused gin into a champagne flute then pour health ade kombucha to the top. Use a stirrer to mix and separate the colors.
Green and Gold Martini
This martini I created 4 years ago is fruity, highly concentrated with alcohol yet so smooth tasting that you would not realize how intoxicated you have become.
No judgment
. You definitely want to drink this from a martini glasses because it's hella cute and worth an IG story or TikTok.

Ingredients
Vodka
Pineapple Juice
Tripple Sec
Lemons and limes cut into 1/4 inch thick
Green sanding sugar
Ice
Stainless Steel Shaker
Martini Glasses
Directions
I honestly wish I could tell you the exact measurements but I really just eyeball it.
In the rocks glass add the following:
2 ounces vodka
1-ounce triple sec
1/4 ounce pineapple juice
Squeeze the juice from 2 lemon slices and 2 lime slices
Add ice to fill to the top and shake for about 10 seconds then set aside
Take the used lime and run it around the rim of the martini class
Pour sanding sugar on a saucer and then put the martini glass rim on the saucer and coat the lip
Pour the martini mixture into the martini glass then sprinkle a little more green sugar on top
French 75
This is my friend Candice of Candy Gyrl Fitness on
Instagram
and she is a total expert in making the best cocktails. She is a personal trainer and one of my favorite people to get great food whenever we are around one another.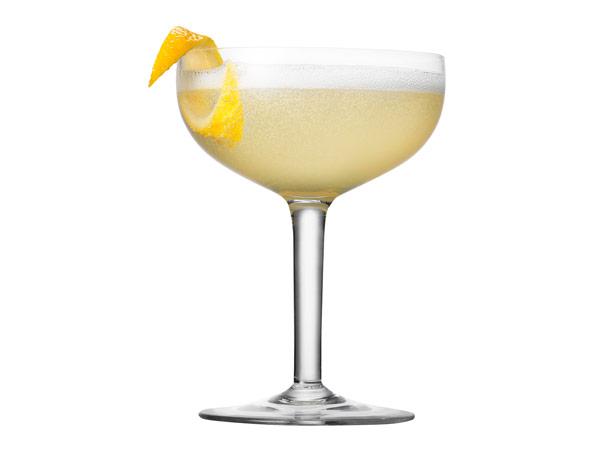 Credit: Food Network
Ingredients
1 Lemon squeezed
1 tbsp simple syrup
Vodka or gin
Champagne
Directions
Use a tumbler glass to mix the juice of half of a lemon, 2 oz of simple syrup and 2 oz of gin or vodka. Pour into the shaker and fill halfway with ice. Shake for a few seconds then pour into a martini glass and top off with champagne.
There are a few more recipes that I have to share. Some from friends, some from recipes online and some completely made up. Enjoy;-)
SL Thomas
SL Thomas is a professional cosmetologist and barber who writes for independently-owned cosmetic brands.